ZONE 1 Eastern Slopes - ES3
The Eastern Slopes consists of the mountains and foothills that form the "Eastern Slopes" along the Rocky Mountains from Montana to the Grande Prairie region. Throughout this zone, tributary creeks flow into larger streams and into major rivers. These watersheds support numerous trout and mountain whitefish populations, as well as Arctic grayling populations in the north.

The Eastern Slopes four Watershed Units are the Oldman and Bow rivers (ES1), the Red Deer and North Saskatchewan rivers (ES2), the Athabasca and Pembina rivers (ES3) and the Smoky River (ES4).

---
ES3 WATERSHED UNIT REGULATIONS
The Athabasca River watershed upstream of Secondary Road 658 near Whitecourt, and the Pembina River watershed upstream of Highway 43 near Sangudo.

BAIT FISHING
● Fishing with Bait in ES3 streams is restricted. Check the ES3 site specific regulations and default regulations for details.
● Fishing with Bait is allowed at lakes without Bait Bans. Check the ES3 regulation tables for site specific regulations.

Alberta Fish and Wildlife may announce short-term emergency stream closures in response to low stream flows and warmer water temperatures. Sportfishing would be suspended and fishing not allowed for the duration of the emergency period.

Ice fishing: Angling is not permitted through the ice; a) into beaver ponds or b) into flowing waters in ES3 except the portion of the Lobstick River lying in 53, 54-9, 10-W5 (Open June 16 to Oct. 31).

Mainstem of a river: includes the mainstem channel and any side channel, oxbows, riparian flow channels, and plunge pools below spillways.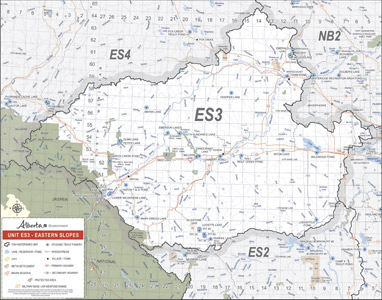 ES3 LAKE AND STREAM LISTINGS
Click the links below
ES3 - Lakes, Reservoirs and Ponds
ES3 - Rivers, Creeks and Streams
ES3 Default Sportfishing Regulations
● The names of most ES3 lakes and streams are listed alphabetically in the site specific regulation tables on the following pages.
● Smaller streams may not be listed, but may be included as tributaries to a listed larger stream.
● If a listed waterbody does not have a season listed, it is CLOSED to fishing during that period.
● If a ES3 lake, reservoir, river, stream or species is not listed, follow the default regulations below.
● General regulation stocked trout lakes are listed here.
OPEN all year
● Bull Trout limit 0
● Arctic Grayling limit 0
● Trout limit 5
● Mountain Whitefish limit 5 over 30 cm
● Walleye limit 3 over 50 cm
● Northern Pike limit 3
● Yellow Perch limit 15
● Lake Whitefish limit 10
● Burbot limit 10
● Bait except Bait Fish allowed

OPEN June 16 to Aug. 31
● Athabasca Rainbow and Bull Trout limit 0
● Arctic Grayling limit 0
● Other Trout limit 2
● Mountain Whitefish limit 5 over 30 cm
● Walleye limit 3 over 50 cm
● Northern Pike limit 3 over 63 cm
● Yellow Perch limit 15
● Lake Whitefish limit 10
● Burbot limit 10
● Bait ban

OPEN Sept. 1 to Oct. 31
● Athabasca Rainbow and Bull Trout limit 0
● Arctic Grayling limit 0
● Other Trout, Arctic Grayling and Mountain Whitefish limit 0
● Walleye limit 3 over 50 cm
● Northern Pike limit 3 over 63 cm
● Yellow Perch limit 15
● Lake Whitefish limit 10
● Burbot limit 10
● Bait ban