Fish Management Zones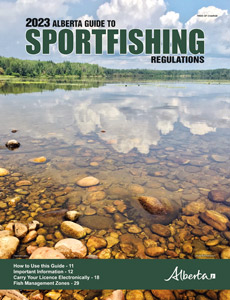 The Alberta Guide to
Sportfishing Regulations
is published annually by Sports Scene Publications Inc. For a downloadable pdf of the Alberta Sportfishing Regulations, visit albertaregulations.ca.

Click here for your nearest Alberta Government office.

Regulations are effective from April 1, 2023 to March 31, 2024

Alberta Fish and Wildlife has developed a map based application to view sportfishing regulations from mobile devices or desktop computers. This web-based app is not downloaded to your phone; it is accessed while you are in cell service. If you are leaving cell service, know the regulations before you go, download the PDF of the Guide, or take a printed copy of the Guide with you. https://geospatial.alberta.ca/afr/.
Disclaimer
This website is a summary of the federal and provincial fishery regulations and is intended to assist those interested in sportfishing.

In case of a discrepancy between the information presented in this online version of the guide and the printed (hardcopy) version, the official online version shall have precedence.

The official Statutes and Regulations should be consulted for all purposes of interpreting and applying the law. Clarification of the regulations may be obtained from your nearest Alberta Government Office. Provincial Statutes and Regulations, in print or electronic format, are available through the King's Printer.
More WEBSITES